The Federal Army has responded to calls from it's Force Commanders to provide a heavier armed and armoured APC for troops on Forsey. Federal troops had been up-armouring their Racoon ARVs while using the aging Bobcat 4-wheel HMLCV as support, but the situation and terrain on Forsey was such that a specialised vehicle was required.
The Federal High Command quicky aquired a contract with Antenociti to supply their Kabardin APC to Federal Forces. The Kabardin, originally produced for the Novaya Rossiyskya Federatsiya (NRF), is a six-wheeled APC capable of carrying up to 8 armoured soldiers and comes in two variants - the GP (General Purpose) and the AT (Anti-tank). Both variants are designated Cougar by the Federal Army.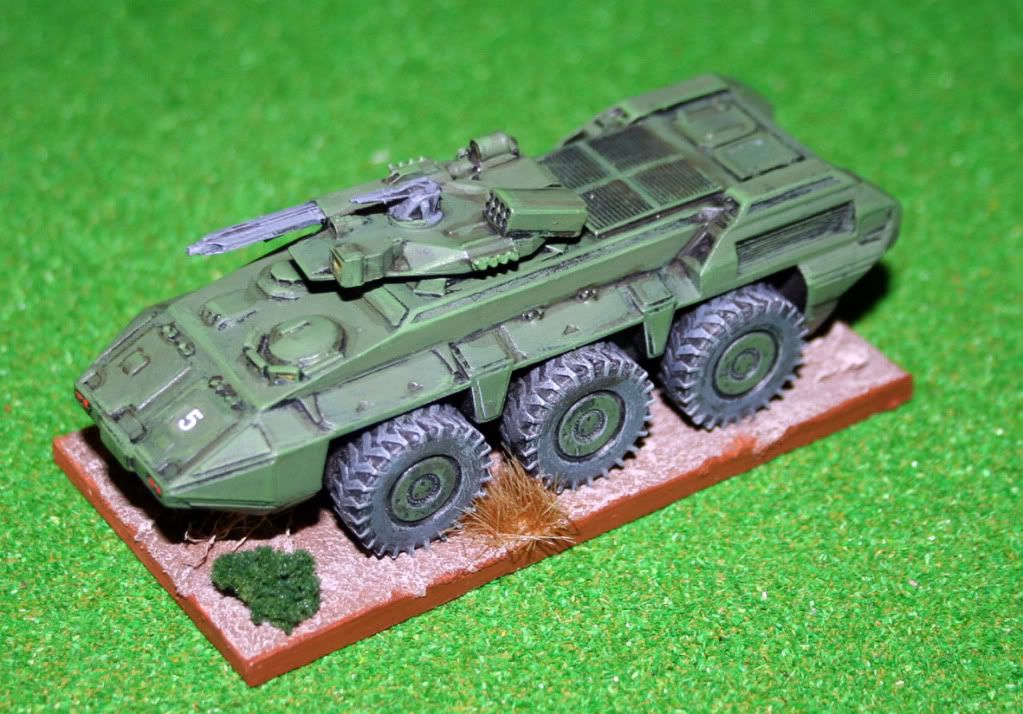 Antenociti's Workshop has just released their first 15mm scifi minatures and I'm massively impressed to say the least. I had quickly placed an order as soon as the APC appeared on their website and only a couple of days later I had received my order. Opening the package I was surprised to see that the main APC body was a single piece resin cast (I had assumed the wheels would be seperate) with a small zip-lock bag containing the turret and a small seperate weapon. The quality of casting on both was extraordinary. The design and casting are both sharp and smooth. There was absolutely no clean up required. So a quick wash with warm water and then I got my vehicle painted. I'm sure there's a lot of people out there who'll do a better job of painting this, but I'm really happy with how it came out. Let's hope Antenociti bring out a lot more in 15mm.